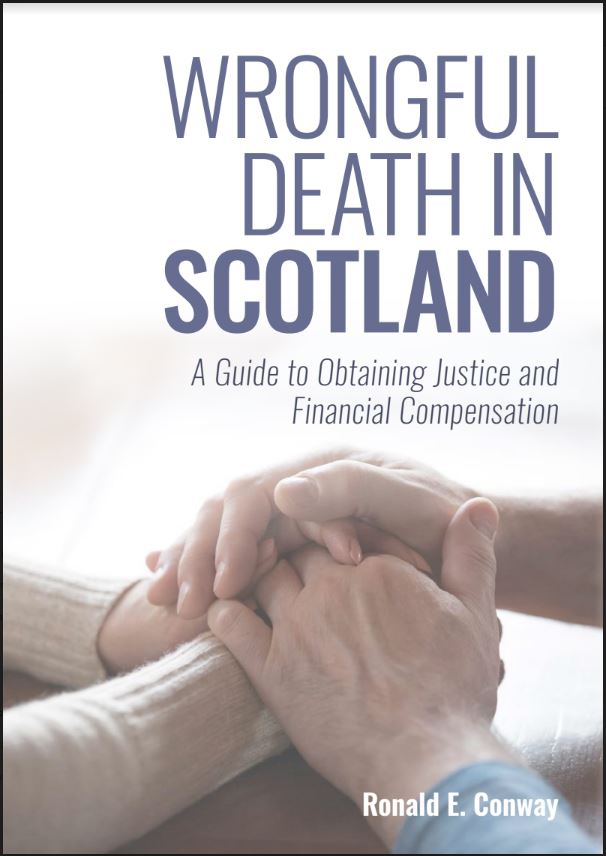 The loss of a loved one will touch us all at some point in our lives. However, a death that was caused by someone else's carelessness results in far more than just grief. Family members may feel anger, frustration, and an overwhelming sense of injustice that their loved one was taken from them—and they may be wondering who can be held accountable for the loss.
These situations are difficult enough without the added sense of "what if?" that follows negligence. That is why lawyer Ronnie Conway wrote the book Wrongful Death in Scotland: A Guide to Obtaining Justice and Financial Compensation. When you download your free copy, you will get the information you need to address your immediate concerns, as well as a guide to your remedies under the law.
In this book, you will learn:
The steps to take after the death of a loved one in Scotland
The legal definition of wrongful death
Common accidents and injuries that can give rise to a wrongful death claim
Who can be held liable in death cases
The difference between civil and criminal liability for a wrongful death
How to gather evidence that will prove negligence
Time limits on bringing a claim in Scotland
How Fatal Accident Inquiries affect your case
Kinds of damages you could recover
Which relatives can legally file a wrongful death claim
Examples of recent awards in successful cases
How to choose the right lawyer for this type of case
What to expect in your first meeting with your lawyer
An overview of the legal process in a wrongful death claim
Request Our Complimentary Book to Get the Answers You Need
The Conway Accident Law Practice would like to extend our deepest condolences to you and your family at this difficult time, and we sincerely hope the information within brings you peace of mind. To request your copy of Wrongful Death in Scotland: A Guide to Obtaining Justice and Financial Compensation, fill out the form below. You will receive an email with a link to download this helpful guide.
Download Now
Please Complete the Form Below to Receive Your Copy