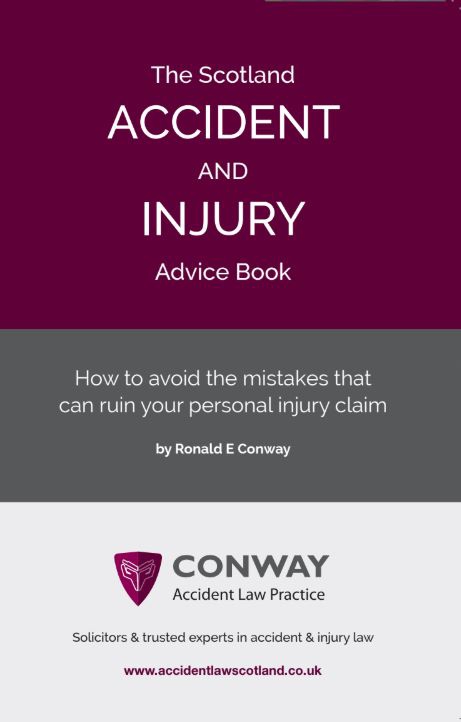 The weeks after an accident are some of the most overwhelming and confusing times in a person's life. Unfortunately, your inability to prepare for a sudden injury makes you vulnerable to more than just pain—it makes you a target for insurance companies to deny your claim or pay you far less than you actually deserve.
Lawyer Ronnie Conway wants to even the playing field between victims and those who would take advantage of them. That is why he wrote The Scotland Accident and Injury Advice Book: A Consumer's Guide to Avoiding the Mistakes That Can Wreck Your Personal Injury Case. When you order your free copy, you are putting yourself in a position to understand the accident claims process, discover the truth about the insurance and claims management industry, and avoid the kinds of mistakes that will wreck your accident claim.
This book contains information gathered through years of legal experience, including:
The basic facts of personal injury claims
What to do after a car accident
What you should NEVER do after a car accident
How to get your car fixed after a crash
Steps to take after a workplace or construction site accident
The dangers of dealing with an insurer after an accident
What to consider before hiring a lawyer
What to expect in your first meeting with an injury lawyer
An overview of the legal process in a personal injury claim
Potential damages you could recover in your claim
How to estimate lawyer fees under a no-win, no-fee arrangement
Request a FREE Instant Download of Our Essential Accident Guide!
The Conway Accident Law Practice represents accident and injury victims throughout Scotland, and we actively follow all the principles set out in this book. To get your free copy, fill out the form below. You will receive an email containing a link to download this informative guide.
Download Now
Please Complete the Form Below to Receive Your Copy