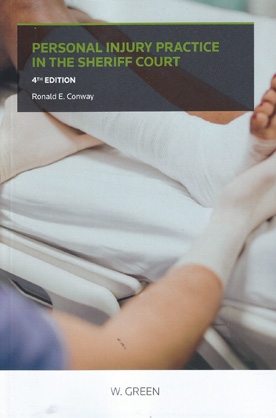 The Journal of Law Society Review of 3rd edition of Personal Injury Practice in the Sheriff Court:
Writing about personal injury practice has always been tricky, due to the subject being a synergy of law, procedure, rigorous systems and tactical nous. Ronnie Conway is, however, uniquely qualified and experienced to illuminate the subject, and he shares that considerable experience in a manner which makes this book both accessible and valuable to practitioners of all levels of experience.
The 4th edition has been fully updated, with extensive references to Case Reports, Practice Notes, Standard Forms, and Checklists. This new publication will again become the indispensable guide to practice and procedure in this area of law.
From the publisher:​ Now in its 4th edition, Personal Injury Practice in the Sheriff Court is the indispensable resource for all personal injury practitioners. Fully up-to-date, practical and user-friendly, this guide to procedure for personal injury claims in the sheriff court incorporates detailed guidance on the pre-action protocol and the personal injury ordinary and summary cause rules, and the All Scotland Personal Injury Court.